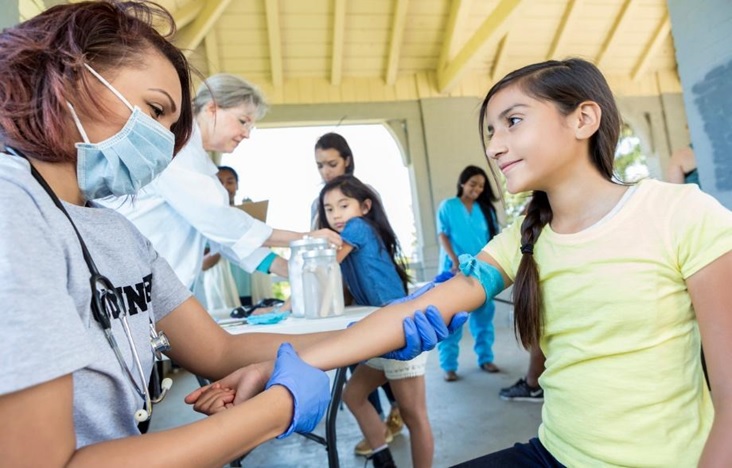 What are the incentives for FNPs to work in rural communities?
The need for medical health practitioners, especially nurses, in American hospitals and homes has increased since COVID-19 struck. This in-demand role will lead to more than 195,400 openings for registered nurses between 2021 and 2031, according to estimates by the US Bureau of Labor Statistics (BLS).
What this means is that there are open roles for all varieties of nursing practitioners (NP), including family nursing practitioners, pediatric NPs, women's health NPs, psychiatrists, orthopedics, and community health NPs. It also creates opportunities for those who want to study and understand the role of community health nurse practitioner. If you are looking to become a family nurse practitioner, universities such as Carson-Newman University offer online degrees to advance your career and stay in your full-time job while studying for your degree.
Family nursing isn't limited to community health; it's a sought-after profession that is expected to be in high demand in the near future. Many rural communities need the medical care that family nursing practitioners can offer, and the benefits of working as an FNP in rural areas are abundant. Here is a look at what you need to understand about family nursing and its practitioners.
What is family nursing?
The primary focus of a family nurse is to provide required healthcare services to individuals and families. You may be limited to selected families, and your work may cut across a community or more.
This approach to healthcare recognizes that the health and well-being of individuals are closely connected to the health and well-being of their families. It also recognizes that nurses should provide healthcare services in a way that takes each family's unique needs and circumstances into account.
A family nurse, therefore, provides comprehensive care that addresses the physical, emotional and social needs of individuals and families. This entails primary care services, such as diagnosing illnesses through symptom checks, treating diagnosed patients, ordering and interpreting medical tests, and providing preventive care.
The family nursing practitioner is trained to provide care support to individuals and their families until the nurse retires. These professionals work closely with patients and their families to develop personalized care plans that address their unique needs and circumstances.
The history of family nursing
Although family nursing became a formal profession in the early 1970s, the history of the medical profession dates back years before its recognition. In the 1960s, the United States government decided that that country was experiencing a shortage in the primary healthcare sector, and many communities lacked medical practitioners to attend to their medical needs.
To turn this around, the government allocated funds to medical schools to create family practice programs that solve this problem. Over time, this practice grew into something valuable. Family nursing is no longer based on the patient-centered care that many have come to associate it with.
Family nursing practitioners are vital parts in the overall health improvement of patients, from healing from diseases and accidents to learning to live with the long-term conditions these life-changing events bring.
Who are family nursing practitioners?
Family nurse practitioners are advanced practice registered nurses (APRNs) who provide primary health care services to people regardless of their age, whether they're infants or adults.
According to Statista, 57.47 million Americans lived in rural areas in 2020. This figure is expected to increase in light of the migration of urban dwellers to rural areas since the pandemic thanks to the flexibility of remote work. These individuals also need healthcare services like those in urban areas, and the availability of family nurses who are trained to treat patients regardless of age is an opportunity for everyone to receive treatment in rural communities.
FNPs fill crucial roles in the healthcare system by providing services to individuals and families throughout their lifespans, which can be especially rewarding for nurses who enjoy developing long-term relationships with their patients. Here is an overview of their role in rural communities.
The role of family nursing practitioners in rural communities
The roles of family nursing practitioners may vary depending on their environment and the needs of their patients. However, some common roles of an FNP include:
Providing primary care services
FNPs are trained to provide primary care services to patients ranging from infants to seniors. They diagnose illnesses, conduct health checks, order tests to determine the health status of their patients and interpret the tests' results. Their lists of patients aren't limited to a specific type of patient; they treat healthy patients who only come in for their regular checkups, injured people, and patients with health struggles such as high blood pressure, diabetes and viral symptoms.
The role of an FNP reaches many departments, making them a vital asset to rural healthcare services. They handle medical issues that ensure patients don't have to visit the emergency room every time they have a concern. This can include home visits and checkups if you're working in a rural community. They also provide medical counseling for patients on maintaining a healthy lifestyle, develop educational material, and create a detailed care plan for each patient who needs them.
Coordinating care with other healthcare providers
Family nursing practitioners can effectively work with teams of healthcare providers, including doctors, nurses, and specialists, to provide healthcare services to patients. This usually involves communicating with other providers to understand the severity of their patient's illnesses, managing medical records and ensuring that patients receive the care they need.
Teamwork makes it easier to provide healthcare services to people who need it. FNPs are trained to understand the importance of teamwork and the advantage of working alongside other professionals to give their patients the premium care they need. For example, a family nursing practitioner who is monitoring the health of a diabetic senior might need to bring in a cardiologist if they suspect a heart irregularity in their patient.
Educating patients and families
FNPs also inform patients and families about their health conditions, the treatment needed to alleviate them, and recommended ways of living. This can include their medication intake, dietary changes and lifestyle adjustments to help them make educated decisions about their health.
Although it isn't their main role, educating patients about key areas that can promote good health is important. FNPs who work in rural communities might need to take some time to properly explain the details of disease prevention, home-based treatments, the need for vitamins and medicines and the importance of medical examinations to rural dwellers who might not prioritize these fundamental needs for their health.
Participating in community outreach and public health initiatives
FNPs work with local organizations and community leaders to address health disparities and promote health and wellness in the community. This includes participating in health fairs, providing health screenings, and educating individuals about preventive care and healthy lifestyles.
They can also work with governmental and non-governmental organizations to advocate for clinical developments in rural areas and improve community health. Family nursing practitioners working in rural communities focus on spreading awareness of medical health and lifestyle choices that promote healthy living, giving their patients and audiences a chance to stay on top of their health.
Why do rural communities need family nursing practitioners?
The demand for healthcare services in rural communities is often higher than in urban areas due to factors such as:
Inadequate healthcare facilities and providers in rural areas.
Economic challenges that make it difficult for individuals in rural communities to get medical help, leading to worse health problems such as mental health disorders and chronic diseases.
Increasing the number of healthcare providers in rural communities effectively reduces the communities' medical service issues. Family nurse practitioners (FNPs) are well-suited for this role as they are trained to wear many hats, from making a diagnosis to providing preventive care and improving access to care in rural communities.
What are the incentives for FNPs to work in rural communities?
The pandemic has created an increase in rural dwellers, which has also spurred need for FNPs in these communities. However, it's not a one-way benefit; family nursing practitioners can also benefit from working in rural communities. Some potential incentives FNPs can access in rural areas include:
Higher pay and better benefits
Many rural communities have greater needs for healthcare providers due to a lack of medical practitioners and may be willing to offer higher salaries and packages to attract and retain qualified individuals. This results in better-paying jobs for FNPs who take up these offers.
FNPs are also positioned to access certain financial incentives and programs that are designed to support healthcare professionals in rural areas. For example, the National Health Service Corps (NHSC) offers loan repayment and scholarship programs to healthcare providers who agree to work in underserved areas, including rural communities, providing financial support for FNPs in these areas.
It is also a good opportunity for FNPs who are just starting their careers and hoping to make enough money to be financially stable. Stable financial health encourages FNPs to perform their jobs better, ultimately becoming top-notch practitioners.
Career growth and opportunities
Rural communities often report a higher prevalence of chronic diseases and other health problems, giving FNPs a chance to gain valuable experience managing these conditions. They may also have the opportunity to work with diverse patient populations, expanding their cultural competency and enhancing their ability to carry out their primary assignment, providing care to individuals from different backgrounds.
Rural healthcare centers also have a heavier workload, allowing FNPs to experience every aspect of caregiving without restrictions or the hierarchical repression most urban hospitals have. These additional workloads can include serving many patients, advocating for good health against medical dangers and making home visits to patients who can't make the journey to the care center. Ultimately, these experiences sharpen FNPs' skills and contribute to their professional growth and development.
A sense of community and support
Rural communities allow family nursing practitioners to work and engage in close-knit communities with a strong sense of sociability. Unlike urban areas, rural communities are usually made up of smaller and more connected individuals. FNPs will find it easier to create lifelong relationships with these individuals, creating a sense of community that benefits everyone involved.
Due to the closeness of rural communities and the limited healthcare providers in these areas, FNPs can relate to and learn from professionals to improve their skills, broaden their knowledge and advance their careers. This will also boost their sense of teamwork, which is important in medical healthcare services. It's also an opportunity to form deep working relationships with colleagues and other healthcare providers.
The best part about FNPs working in rural areas is becoming an integral part of the community. Their importance as primary healthcare providers means communities might involve nurses in their events and activities, creating a sense of belonging.
Job satisfaction and fulfillment
Rural communities tend to have a greater need for healthcare services, and FNPs working in these areas are well-positioned to make a meaningful impact on the health and well-being of their patients. This can provide a sense of accomplishment and fulfillment that can be rewarding for FNPs and enhance their overall job satisfaction.
Long-term employment
Thanks to the lifelong partnerships formed by family nursing practitioners and their patients, most FNPs who practice in rural communities are likely to do their jobs for the long term, compared to nurses working in urban areas. This can be attributed to the numerous relationships and healthy work-life balance most FNPs enjoy when working with families in rural communities.
The added financial benefits for FNPs working in rural communities can also motivate them to remain in their position, giving them a sense of job security while they do what they love.
Career prospects for Family Nursing Practitioners
The US Bureau of Labor Statistics (BLS) estimates a 40% increase in employment for nursing practitioners between 2021 and 2031. They are predicting a considerable rise from 246,700 nursing practitioners in 2021 to a projected 359,400 nursing practitioners in 10 years. This is due to a shortage of primary care providers in many rural communities in the country.
This increasing need will provide FNPs with numerous career opportunities in traditional healthcare settings such as hospitals and clinics and non-traditional settings such as schools, community health centers, and home health agencies. They can also choose to specialize in particular areas of healthcare, such as pediatrics and mental health, or unlock additional career opportunities that can increase their earning potential.
Ultimately, the need for more FNPs in rural areas is a great opportunity for practitioners to pursue advanced career goals. At the same time, it helps rural communities improve their health.
How to become a family nursing practitioner
There are several steps that must be completed before a nurse can become a family nurse practitioner. Some of these requirements include:
Obtain a Bachelor of Science in Nursing (BSN) degree from an accredited nursing program. This typically takes four years to complete and should be accredited by the American Association of Colleges of Nursing (AACN).
Pass the National Council Licensure Examination for Registered Nurses (NCLEX-RN) to become a licensed registered nurse (RN).
Gain at least one year of clinical experience as an RN in a primary care setting, such as a family practice or outpatient clinic.
Enroll in a Master's of Science in Nursing (MSN) program focusing on becoming a family nurse practitioner (FNP). This program typically takes two to three years to complete and should be accredited by the Commission of Collegiate Nursing Education (CCNE) or the Accreditation Commission for Education in Nursing (ACEN).
Pass a certification exam, such as the American Academy of Nurse Practitioners (AANP) or the American Nurses Credentialing Center (ANCC) certification exam, to become a certified FNP.
Obtain a state license to practice as an FNP. Requirements for licensure differ by state, so check with your state board of nursing for the specific requirements that apply in your case.
Can family nursing practitioners have sub-specialties?
Although their job description is focused mostly on general caregiving, FNPs can also have sub-specialties. Some of the specialties available to these practitioners include:
Cardiac care
Renal/Urological care
Psychiatry
ER/Trauma
Orthopedics
Critical care
Pulmonary care
Perinatal care
Oncology
Postpartum care
Pediatrics
Rehabilitation
Medical-Surgical care
Diabetes care
Some FNPs might wish to practice in a specific area that interests them, which is where sub-specialties come in. Although it is not a requirement, it can be helpful in advancing their career.
How much does an average FNP earn?
Several factors influence FNP salaries and benefits, including certifications, years of experience, the location of work, the degree level obtained, and the type of employer. FNPs are entitled to generous salaries, which extend to FNPs working in rural areas. In addition to the financial benefits, they can explore an environment that lets them improve their experience, make new relationships and maintain their work-life balance.
The bottom line
There are many incentives for FNPs who work in rural communities. This includes the opportunity to make a valuable impact on underserved populations, access to better benefits, opportunities for professional growth and career development, and the chance to build relationships with communities and other healthcare practitioners. Ultimately, FNPs play a critical role in reducing health disparities between urban and rural areas, giving rural communities an opportunity to enjoy a healthier lifestyle.